Micah Routon, Lead Pastor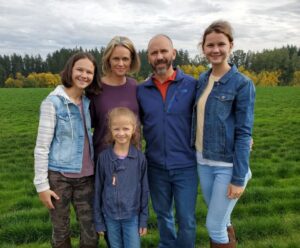 Growing up in Newberg Oregon, I often wondered what life was like in other places. So, when God opened doors for me to see what He was doing around the world (shortly after graduating from George Fox University) with One Mission Society (OMS), I jumped on the opportunity. What I thought would last only a short time stretched into over 20 years. The last 16 of those years my wonderful wife Marla and I have been working in church planting in Brazil with our growing family. Today, we have three daughters and are happy once again to call Newberg our home.
Though my wife and I are from the Pacific Northwest, we have been greatly influenced by some of the saints and mentors that we have walked with throughout the country and around the world. We have come to love and appreciate the Word of God in its perfection, reliability and relevancy to everyday life, regardless of the culture we are immersed in. I consider it a great privilege and responsibility to teach the Word and to walk with people through different seasons of life.
A verse that has been special to me is Isaiah 43:19,
"Behold, I will do a new thing, Now it shall spring forth; Shall you not know it?"
I like it because it speaks of God's dynamism; that He is active, even if we don't perceive it. Our responsibility and privilege is to be sensitive to what He is doing and to walk in step with Him.
Jim Courson, Advising Pastor
My greatest privilege and delight is that of what John says— "I have no greater joy than to hear that my children walk in the truth." (3rd John 4). There is no greater truth than the Word of God and the truth of Jesus found within. As a pastor of this very dear flock my great responsibility is to feed the flock the truth found in God's Word. Such truth ought always to lead us to fix our eyes upon Jesus. Pray for me and us in that we might "grow in the grace and knowledge of our Lord and Savior Jesus Christ. To Him be the glory both now and forever."
I've been privileged to grow up and continue under pastors who were committed to the solid feeding of God's flock. The three pastor's who have had the greatest influence upon me are Chuck Smith, Chuck Swindoll and foremost my dear brother Jon. As a young man, they all had influence upon me, and they continue to do so. I still glean greatly from their solid, uncompromised, teaching of the Word. All three have demonstrated that the greatest gift a pastor can give to the church is the consistent, solid feeding of God's Word to God's people.
I thank my God who has allowed me the great joy of over three decades of marriage to my lovely wife. Julie loves the Lord and has been faithfully and lovingly by my side as an encourager and example. We've had the privilege of serving together in the unique locations of Papua New Guinea, rural Mexico and here in Oregon. In each realizing the wonderful grace of God. He has blessed us with three kids, their spouses and six grandchildren. Truly God is good!
Jason Arsenault, Assistant Pastor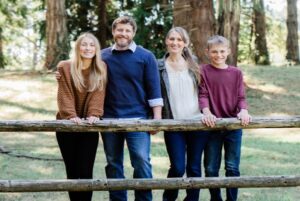 I first called out to Jesus Christ on an Easter Sunday when He set before me the ultimate question: "Who do you say that I am?"
Before that day I thought of Him as a good man, at best. More likely He was just a myth. Whatever He was, He wasn't for me.
But every word of the sermon that day seemed to speak directly to the innermost thoughts of my heart. I was confronted with the reality of Jesus' death, burial, and resurrection and I could no longer deny it; "Truly this Man is the Son of God." He didn't just live like no man had ever lived, but He also died and rose again proving He is who He claimed to be. And He did this for us all–even me. Jesus Christ, God in the flesh, even though He knew everything about me (about us all), willingly laid down His life. I was saved that day as I confessed with my mouth that Jesus is Lord and believed in my heart that God raised Him from the dead.
In the 20+ years since then, the Lord has continually blessed me (in spite of me) in more ways than I could've ever imagined. The greatest of these blessings: my precious wife, daughter, and son. And if that wasn't enough, He has given me the grace to be able to serve His Body year after year in a variety of ways. It is a great privilege and joy to live my life for Him who gave His life for me, and to be blessed with the solemn charge to care for the church of God which He purchased with His own blood.